Daniel Bwala, a legal counsel to Deputy Senate President Ovie Omo-Agege, stated incorrectly that Twitter denied knowing President Muhammadu Buhari before his tweets proclaiming war on the Igbos were removed.
The president's tweets threatening retribution for the Igbos, while invoking his part in the Nigerian Civil War of 1967-70, sparked outrage on Twitter, causing Twitter to delete the tweets for breaking the platform's "abusive behaviour" policy.
During an interview on Channels TV on Sunday night, Mr Bwala elaborated on a reported Twitter answer, alleging that they were unfamiliar with the president's name or the nation he governs.
"They responded, 'We do not know who you are or what nation you rule,' Muhammadu Buhari. He reported the firm as saying, "We came across a tweet that offended our guidelines and we opted to take it down." He described the comments as insulting.
Mr. Bwala chastised the firm, calling it a "agent of foreign powers attempting to destabilise Nigeria."
"And I told myself, 'If you do not know as a corporation, a nation with more than 30 million subscribers, and the president of that nation, you are either the stupidest person on the planet, or you are an agent of foreign powers seeking to destabilise Nigeria,'" he stated.
Despite the fact that the company's supposed statement went viral on social media platforms, Digital Africa Research discovered that it was photoshopped by online fake news propagators.
The Buhari administration shut down Twitter in Nigeria two days after the posts were removed, claiming that the website was being used to propagate false information and engage in "activities that are capable of undermining Nigeria's corporate existence."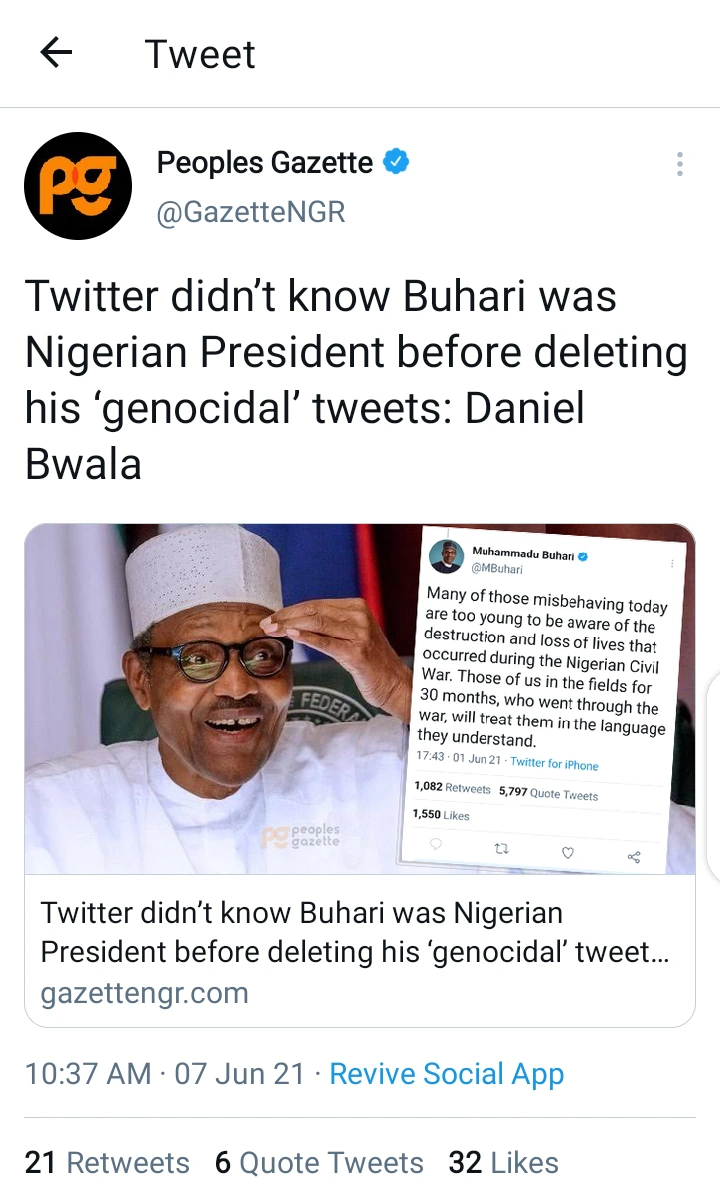 Attorney-General Abubakar Malami threatened to arrest and punish everyone who tweets in Nigeria in order to implement the prohibition. The decree came three days after the Peoples Gazette released a letter in which Mr Malami recommended that the president suspend the Constitution and declare martial law to combat escalating insecurity.
Mr. Bwala did not respond to a request for comment when asked if he was aware that the tweet he amplified on television was phoney.
However, Mr Bwala stated that while the present administration has the legal authority to prohibit the site in Nigeria, it lacks the authority to punish Nigerians who use it.
"Now, what is quite apparent is that the Nigerian government cannot prosecute Nigerians for using Twitter because the law of the land states nobody may be prosecuted or convicted for an infraction that is not specified by law for which the punishment is stipulated in a written constitution. That region, there is no additional debate on that," he added.